010 Editor can be used to edit data in hexadecimal, octal, binary, or decimal format. If you are using 010 Editor v4.0 or higher, data can easily be edited in binary format by choosing 'Binary' from the 'Edit As' drop-down list located in the File Bar above each editor:
The editor will look like this when editing in binary mode: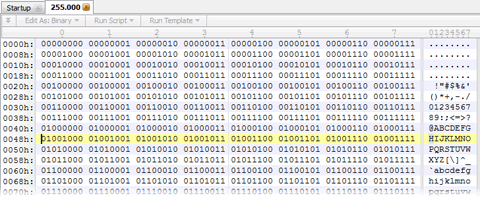 Note that the binary editor has 8 bytes displayed per line instead of the usual 16 (this can be controlled using the 'View > Line Width > Fixed 8 Bytes' menu option).
If you are using 010 Editor v3.0 or earlier, a file can be edited as binary but a different method must be used. In this case note that the editor has two different areas that can be used to edit data: a left area and a right area. To use the left area to edit data in binary format, click the 'View > Left Area > Binary' menu option.