010 Editor Repository - Installing Files
The installation of files from the Template Repository or Script Repository can now be done directly within 010 Editor starting in version 7.0. Click 'Templates > Template Repository' or 'Scripts > Script Repository' on the 010 Editor main menu to view the Repository Dialog: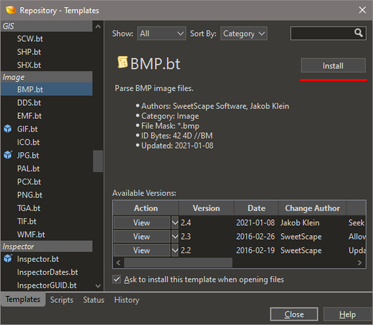 Select a file from the list along the left side of the dialog and click the Install button. To submit files to the repository see the Submitting page. In older versions of 010 Editor files can be installed by downloading the file to disk and then using the Templates or Scripts page in the Options dialog.