010 Editor v5.0 has a number of new featuers including syntax highlighting for HTML, XML, and PHP. For example:
Syntax highlights can be added or customized using the 'Syntax' page of the Options dialog. Version 5.0 adds column mode for working with text data organized into columns:
A quick way to make a column selection is to hold down the Ctrl key while dragging the mouse. For the first time, 010 Editor is now available on Linux:
A new Format menu is now available which includes a number of options for formatting text including capitalization, tabify, commenting, and trimming: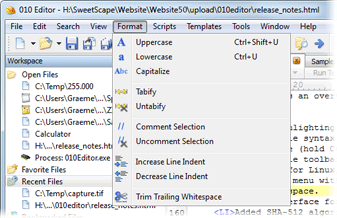 The Toolbars and Editor Right-Click menu can now be customized using the Options dialog:
Plus much more. To download the latest version, please click the following link:
Version 5.0.2 - July 28th, 2014
Fixed problem writing to drives on Windows 7 and later versions. Windows now requires that all open file handles be closed before changes can be saved.
If all file handles are not closed when a drive is opened, a warning is displayed and the drive is marked as read-only (Windows only).
In the Open Drive dialog each physical drive shows a list of logical drives it contains (Windows only).
Added 010 Editor to Mac Finder 'Open With' right-click menu for most file types.
Changed Chinese Simplified encoding from GB2312 to GB18030 (GB18030 is a superset of GB2312).
Fixed using Printf/FPrintf and %s with strings more than 4096 characters long.
Fixed error message on some machines about regsvr32 in the Windows installer.
Fixed crash with sizeof operator on certain structs declared with a size attribute.
Fixed not being able to cancel a script after the RunTemplate function was called.
Fixed Find in Files was not properly releasing some file handles.
Functions InputNumber/InputFloat/InputString properly resize the dialog before it is displayed.
Fixed problem using Exec function on Linux and Mac with file names than contain spaces.
Using %f parameter in External Programs now auto-adds quotes for file names containing spaces.
Now show a warning when attempting to open Template Results hierarchies deeper than 31 levels.
Fixed 010 Editor unable to run on some Linux machines due to a Qt library issue.
Fixed crash on Mac with duplicate enums.

Version 5.0.1 - June 19th, 2014
Fixed Copy As Hex Text crash when the hex editor Line Width is set to Auto Width.
Fixed possible text corruption in Linux when deleting.
Fixed crash using SHA-512 on certain large files.
Fixed setting a shortcut key for a script starting with a lowercase letter.
Fixed possible crash with Allow Multiple Find Ranges and large files.
Fixed Hex Operation dialog becoming uneditable after first operation on the Mac.
Fixed crash with certain non-terminated strings in scripts or templates.
Fixed problems opening files larger than 4 GB on Linux.
Fixed clicking the upgrade link in the Register dialog when the licensee name contains certain non-ASCII characters.
Added instructions on running 010 Editor on Ubuntu 14.04 64-bit.
Version 5.0 - June 24th, 2013
The following is an overview of the new functionality in version 5.0 of 010 Editor:
Syntax highlighting for HTML, XML and PHP.
Customizable syntax highlighting.
Column mode (hold Ctrl while dragging the mouse to select columns).
Customizable toolbars and right-click menu.
Available for Linux, Windows and Mac OS X.
New format menu with options for Uppercase, Lowercase, Capitalize, Tabify, Untabify, Comment Selection, Uncomment Selection, Increase Line Indent, Decrease Line Indent, and Trim Trailing Whitespace.
Show whitespace.
Better interface for customizing shortcut keys.
Added SHA-512 algorithm.
Added 16-bit half-float data type (hfloat).
Support for importing and exporting binary text.
19 new functions for Scripts and Templates.
The following is a list of all new features in version 5.0 of 010 Editor:
Syntax Highlighting

Added syntax highlighting for HTML, XML and PHP.
New Syntax Highlights can be created or existing Highlights modified using the Syntax page of the Options dialog.
Support styles for Syntax Highlights so multiple rules can share a single color.
Edit styles using the Styles page of the Options dialog.
Easily modify the list of highlighted keywords for a Syntax Highlight.
Support multiple rule types including Multi-Line Block, Single-Line Comment, Keywords, Single-Line Block, C-Style String, Tag Name, and Tag Attribute.
Rules can be applied with Ignore Case for case insensitivity.
Support multi-line C-style strings with '\'.
Import or export the list of Syntax Highlights including styles using the Import List or Export List buttons.
Support sub-rules so that different types of syntax highlighting can be applied to the same file.

Column Mode

Support Column Mode for editing the columns of text or hex data.
Easily make a column selection with the mouse by holding down Ctrl while dragging.
Enter column mode using Alt+C or click the Column Mode icon in the Toolbar.
Make column selections and copy or paste them using the clipboard.
Make a column selection and start typing to insert text on each line at the same time.
Column selections supported in Hex mode as well.
Click and drag straight down to create a special column insert line.
When the clipboard contains just a single line of data, pasting the data with a column selection pastes the data on each line of the selection.

Linux Version

Added Linux version with installer.
Officially support Ubuntu 10.04 and later.
Available as a 32-bit program (can be installed on 64-bit OS as well).
Can load scripts and templates by double-clicking them in the Ubuntu File Manager.
Support Unix-style middle-click clipboard.

Toolbar Customization

Can customize Toolbars by using the Toolbars page of the Options dialog.
Access the Toolbars page by right-clicking on a Toolbar and selecting 'Customize...'.
Drag-and-drop actions to the Toolbar list to insert items into the Toolbars.
Insertion point marked with red line.
Drag icons out of the Toolbar list to delete items from the Toolbars.
Create, delete and rename custom Toolbars.

Menu Customization

Customize the Editor Right-Click menu using the Menus page of the Options dialog.
Can also access the Menus page by right-clicking on an Editor Window and choosing 'Customize...'.
Drag-and-drop actions from the Actions tree to the menu to insert actions.
A red line marks the action insertion point.
Drag items out of the menu to delete actions from the menu.
Add separators to the menu using the special Separator action.
Add sub-menus to the menu with the Submenu action.
Double-click on a sub-menu name to rename the sub-menu.

Format Menu

Added new Format menu for working with text data.
Can convert text to Uppercase, Lowercase, or Capitalize (e.g. APPLE, apple, Apple).
Converts spaces to tabs using Tabify or tabs to spaces using Untabify.
Can add or remove comments from the selection using Comment Selection and Uncomment Selection.
Commenting supports line comments (e.g. '//') and multi-line comments (e.g. '/*' and '*/') based off the current Syntax Highlighting scheme.
Format menu supports Increase Line Indent to add tabs or Decrease Line Indent to remove tabs (similar to using Tab or Shift+Tab in the editor).
Trim Trailing Whitespace removes any spaces or tabs from the end of each line.
Tabify, Untabify and Trim Trailing Whitespace operate on the whole file if no selection is made.

Show Whitespace

Use 'View > Tabs/Whitespace > Show Whitespace' or the icon in Toolbar to display whitespace.
Shows symbols in a text file where spaces and tabs exist.
The color of the symbols can be controlled in the Colors page of the Options dialog.
The Show Whitespace setting is remembered with the current File Interface.

Shortcut Keys

New, easier-to-use interface for changing Shortcut keys in the Options dialog.
Better support for Shortcut keys on the Mac.
Enter a Shortcut key by pressing the key on your keyboard instead of having to type out 'Ctrl+M'.
Use 'Help > View Shortcut List' or click the List Shortcuts button in the Options dialog to view a list of all shortcuts sorted by shortcut name.
The list of shortcuts shows any customized shortcuts as bold.
Allow multiple shortcut keys to be assigned to a single action.
Better interface for removing shortcut keys from actions.
Can see any conflicting actions when assigning shortcut keys.

New Functions

Converts a set of hex bytes to a double, float, or hfloat with ConvertBytesToDouble, ConvertBytesToFloat, or ConvertBytesToHFloat.
Support copying an array of hex bytes to or from the clipboard with CopyBytesToClipboard and GetClipboardBytes.
Save a portion of a file with the FileSaveRange function.
Access the custom clipboards with the GetClipboardIndex and SetClipboardIndex functions.
Access other properties of bookmarks with the GetBookmarkArraySize, GetBookmarkBackColor, GetBookmarkForeColor, GetBookmarkMoveWithCursor, and GetBookmarkType functions.
Added a radio button box input dialog using the function InputRadioButtonBox.
Ask the user for a directory with the InputDirectory function.
Can overwrite a block of bytes using the OverwriteBytes function.
Added ReadHFloat and WriteHFloat for working with half-floats.
Set environment variables within the working process with the SetEnv function.

Functions Updates

FileClose was improperly asking to save changes on a modified file.
GetClipboardString, CopyStringToClipboard, and ClearClipboard uses the current clipboard (see GetClipboardIndex and SetClipboardIndex).
CopyStringToClipboard has a charset parameter to inform the clipboard of the type of data being copied.
Can specify a custom polynomial or initial value with the Checksum functions.
Added an optional number of bytes to read to the ReadWString, ReadString, ReadLine, and ReadWLine functions.
FileNew has a new makeActive parameter to control if the created file is set as the active file.
Added an optional fill character to the InsertBytes function.
InputOpenFileName, InputOpenFileNames, and InputSaveFileName functions now use UTF-8 strings.
The Sleep function now refreshes the screen before long sleeps (more than 1000 milliseconds).
Added SHA512 algorithm to the checksum functions.
Added Binary Text format to the Import/Export functions.
TextGetNumLines now returns -1 if the current file is a hex file.
Update help that Strlen returns the number of bytes instead of the number of characters.

Templates/Scripts

Added 16-bit Half-float (hfloat) data type.
Automatically cast between hfloat, float and double data types.
Tooltips now properly use any custom <name=> functions.

General

Updated visual style of the interface and updated some icons.
Added new File Interfaces HTML, PHP, and XML.
When selecting more than one line in a text editor, the number of selected lines is now shown by default in the status bar.
Added SHA-512 hash algorithm.
Able to delete individual recent files or clear the list of recent files by right-clicking on the Recent Files list in the Workspace or the Startup page.
Added Goto button to the Goto Bar.
Added new File Interfaces to the New list.
Auto-detect XML files.
Added -readonlyall command line option to mark all files as read only.
Added 'Selection > Goto Selection Start' and 'Selection > Goto Selection End' for jumping to the beginning or the end of a selection from the right-click menu.
Synchronized scrolling now only works between all hex files or all text files.
Faster Undo/Redo for operations which contain a large number of small operations.
Renamed 'Toggle Word Wrap' action to 'Word Wrap'.
Renamed configuration file to '010Editor50.cfg'.
Removed 3-computer limit in the End-User License Agreement.

Import/Export

Added Import/Export option for the Binary Text format (e.g. 10100010 11110000).
Added Copy As Binary Text and Paste From Binary Text to the Edit menu.
'Copy as <format>' now uses the displayed number of bytes per line (it was using the number of bytes from the last export).

Options

Can disable the auto-import of Intel Hex or Motorola files when dragging and dropping from the system File Manager (see the Importing page).
Added option to disable the Backspace/Delete key in Overwrite mode for hex files (see the Hex Editor page).
Can control the color of the Show Whitespace characters on the Colors page.

Bugs

Fixed bug with Save Selection on a newly created file.
Fixed crash with -compare command line option when the file names were the same.
Fixed issue with updating the Recent Files list when scripts or templates were opened.
Deleting a file from the Workspace Recent Files list did not update the Startup Page Recent Files list.
Fixed up Insert Date/Insert Color on big endian unicode files.
Fixed up 'Move to New Vertical Tab Group' missing after a Compare.
Fixed warning dialog for optimized structs cannot be dismissed on Mac.
Fixed crash when an improper argument was passed to a function inside a script in certain cases.
Fixed error message in the Windows installer about Regsvr32.
Possible to delete part of a DOS linefeed in certain cases.

For a full list of changes in other versions of 010 Editor, please see the Release Notes.